Meeting changing expectations around email customer service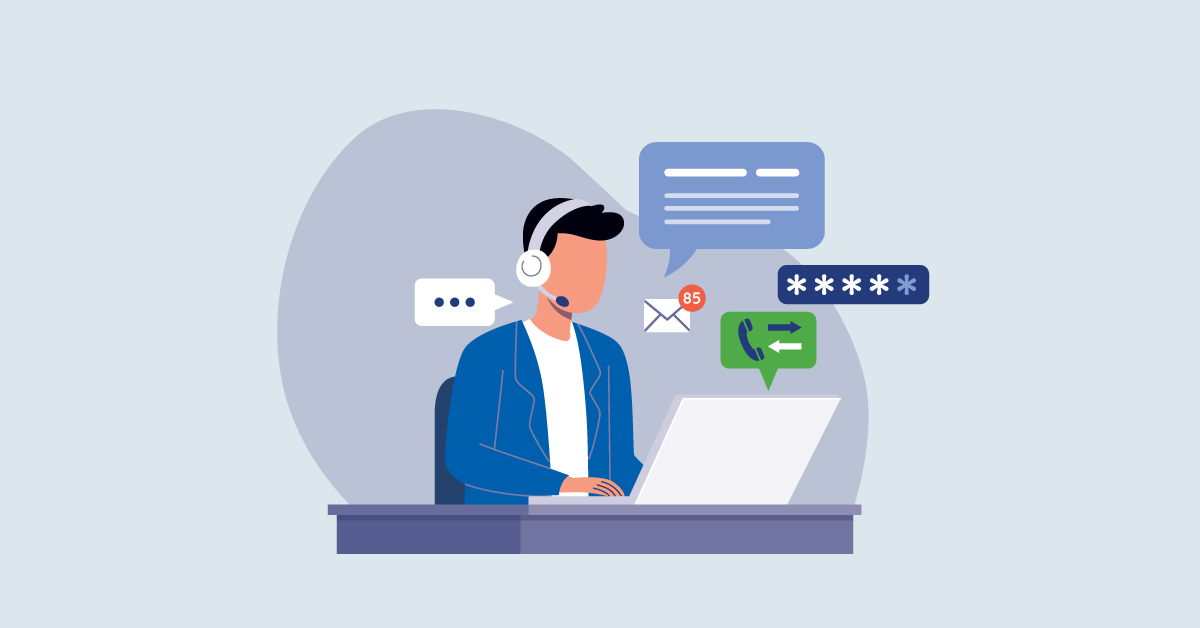 Email customer service may not be new, but it remains popular.  UK Contact Centre Decision-Makers' Guide, it is the most used digital channel and accounts for 16.5% of all interactions – second only to the telephone. Therefore, businesses must priorities delivering efficient, effective customer service to cater for the people who prefer to use this channel
Request A Demo Today To See It In Action
Consumers of all ages and demographics value the sheer convenience of email. You can send an email at any time, from anywhere, on any device. There's no need to speak to a live agent, making it popular with younger demographics who often want to avoid picking up the phone. It's also asynchronous, meaning the customer can respond to messages when they want. Unlike a telephone call or chat session, there is no pressure to give an immediate answer.
Email is also perfect for the increasing number of customers who have complex queries. With email, they can provide detailed information about their query and attach documents and images. Agent responses can include relevant website links. Also, email delivers a full audit trail of the customer's query, providing added peace of mind for consumers.
Email offers businesses the advantage of providing choice for their customers. And at an average cost of £3.68 per interaction, it is considerably cheaper than the telephone channel, which averages £6.26. It is also easier to manage. While businesses need to respond to emails in a timely fashion, there's time to find relevant information before answering, making it less pressured than a phone call.
Emails are straightforward to track and forward to other team members. As a digital channel it is inherently easier to automate processes (for example with AI) to increase efficiency. It's also more private than channels such as social media which means customers can share some personal/account information without needing to go through full security checks.
Best practice – 5 ways to deliver on email customer service
However, as with every channel, today's customers want faster, more comprehensive responses via email. So, how can you ensure you are meeting their needs?
Email volumes can be high, particularly for large organisations. So, it can be tempting to make it difficult for consumers to find customer service email addresses to lower demand. However, this causes annoyance and can deflect consumers onto more expensive channels such as the telephone. It's much better to display email addresses or web forms clearly and use email as an escalation from self-service.
Customers don't expect companies to respond to emails immediately. However, let them know that you have received it. Providing an immediate, automated acknowledgement also allows you to set realistic expectations about when they will get a full response. You can also include links to relevant online answers that may answer their query in the meantime. Keeping customers in the loop makes them less likely to send follow up emails or chase their enquiry through other channels.
Provide agents with relevant 'best answer' templates that they can personalise and respond with, especially for common queries. Back this up with a comprehensive knowledge base that allows agents to ask questions in plain English. Drive continuous improvement by making it easy for agents to give feedback on templated answers. You can then use this to amend or fine-tune responses to improve the experience.
Make sure you don't limit your answers just to text. Instead, use email to share links to relevant images and 'how to' videos that can help consumers. However, ensure you deliver helpful responses. Rather than emailing a link to a 90-page product manual, highlight the specific page or paragraph that answers the customer's query.
As a text-based channel email is easy to analyse in real-time as soon as it enters the contact centre. For example, by analysing the email's content you can route it to the agent with the best knowledge, skills, or language to respond effectively. You can also use analytics to identify customers that are at higher risk of leaving or to prioritise queries from high-value or VIP customers. Analysis can also provide early warning of potential issues, such as if you see a growing number of emails mentioning specific topics.
Email provides deep insight into what customers want – and how successfully you are performing. As well as tracking metrics such as response time, you can analyse email responses to ensure consistency and identify areas for agent training. Similarly, you can perform AI analysis across all interactions to spot trends, track sentiment and better understand customer needs. Email is also the easiest channel for distributing post-interaction feedback surveys as part of your Voice of the Customer programme.
While the first email was sent way back in 1971, it remains a popular choice today, especially for customer service. In fact, the rise of smartphones and a desire for digital communication has made it even simpler to use and more prevalent than ever. However, with expectations continuing to rise, companies need to implement the right technology to support robust email customer service. AI should back this implementation to empower agents and drive ongoing improvements.

Altitude Software
9 Hazi't St. Hemand,
Hemed -5029500
Israel
Tel: +972 3 6471122
Email: [email protected]
Legal advice  |  Privacy Policy