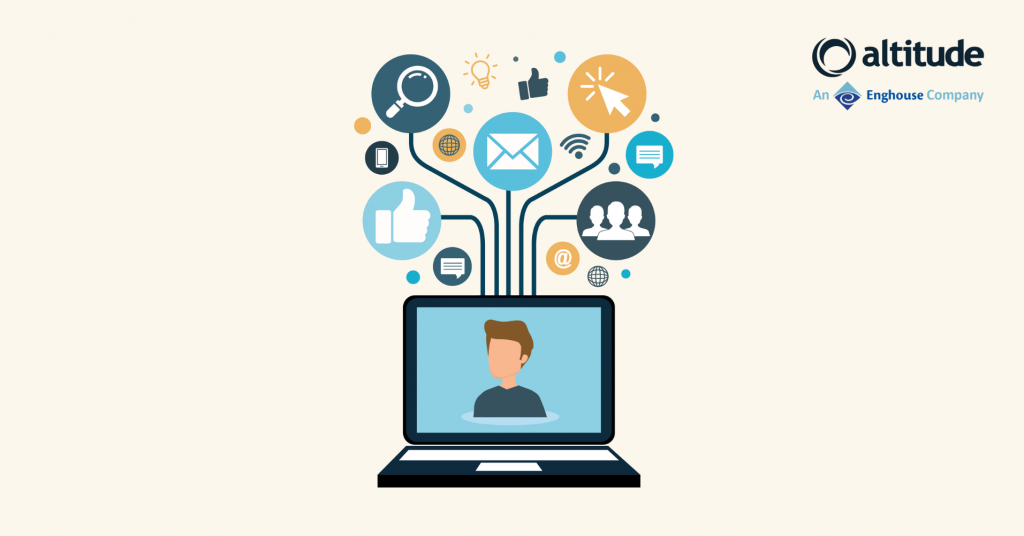 WHAT IS A UNIFIED, OMNICHANNEL AGENT DESKTOP
A unified, omnichannel Agent Desktop is an application used by contact center agents to handle interactions with customers and that provides a single place to work.
A unified agent desktop integrates seamlessly, easily, and quickly, all communication channels and external applications, such as CRM systems, into a single and unified interface. Keeps agents from working in different systems and platforms and handle customer inquiries in one single interface.
A unified agent desktop is also an omnichannel agent desktop because it supports a 360 degree view of each customer.
It enables businesses to have a single customer view and display it to agents in a single interface which empowers them to treat each customer as a VIP.
Whether agents handle inbound or outbound calls, a unified agent desktop ensures that they always have the necessary information about the customer, if not at the screen, they can, for example, quickly find it in an integrated knowledge base, to ensure answer accuracy.
Moreover, a good agent desktop features a script that guides agents through the conversation with the customer helping to ensure that agents go through the most important phases of the conversation.
Benefits of a unified agent desktop for agents
Make it easier for agents to find information and focus on delivering an awesome customer experience, instead of worrying about navigating the application.
Enhance the customer´s experience by having all the necessary customer information at their fingertips
Solve customer issues right at first contact by seeing an integrated view of the customer history with the business and using features such as the customer history and a knowledge base.
Require little or no training as the agent desktop interface hides the complexity of multiple applications and systems
Manage multichannel interactions using the same tools and features, regardless of the channel
Handle multiple interactions, such as voice and WhatsApp messages across multiple channels simultaneously.
Seamlessly transfer or escalate an interaction to another agent together with the data gathered up until the transfer
Ability to display performance and track the progress of objectives enabling agents to take action in real time, to make improvements and go the extra mile if necessary.
Benefits of an omnichannel agent desktop for customers
Agents access to the customer history keeps interaction context and avoids the need for customers to repeat the same story to each agent if the interaction is transferred
A user-friendly desktop interface, that gives agents all the customer information at their fingertips, enables them to solve issues faster and right at first contact
Knowledgeable agents give customers better, more accurate answers and faster
Empowered agents, with the knowledge  and the tools, are able to deliver personalized service, giving customers the best experience.
Benefits of an agent desktop for the contact center
Gather all customer interaction history in a single place, regardless of department or issue to empower agents to provide the best customer service.
Break down department silos by unifying the customer data into a single repository and make it available to agents at the contact center.
Empower and motivate agents, reduce agent churn by providing an easy to use agent desktop
Connect all the bits and pieces of complex customer journeys and present them to the agent in a simple flow, possibly with the help of a script.
Improve agent productivity by reducing training times and interaction time. If agents have all they need at the tip of their fingers, the time spent resolving issues and solving customer queries is greatly reduced.
Minimize the number of required apps that need to configuration and maintenance.
Interactions with customers have become increasingly complex, as contact centers must support a growing number of channels. Additionally, it's crucial that agents communicate quickly and efficiently with customers to provide the best service. The communication must be transparent to agents, they need to access tools through a single click and view all the necessary information to handle that interaction in a single window.
A unified agent desktop is the enabler application that allows agents to handle and successfully manage the interaction with customers!